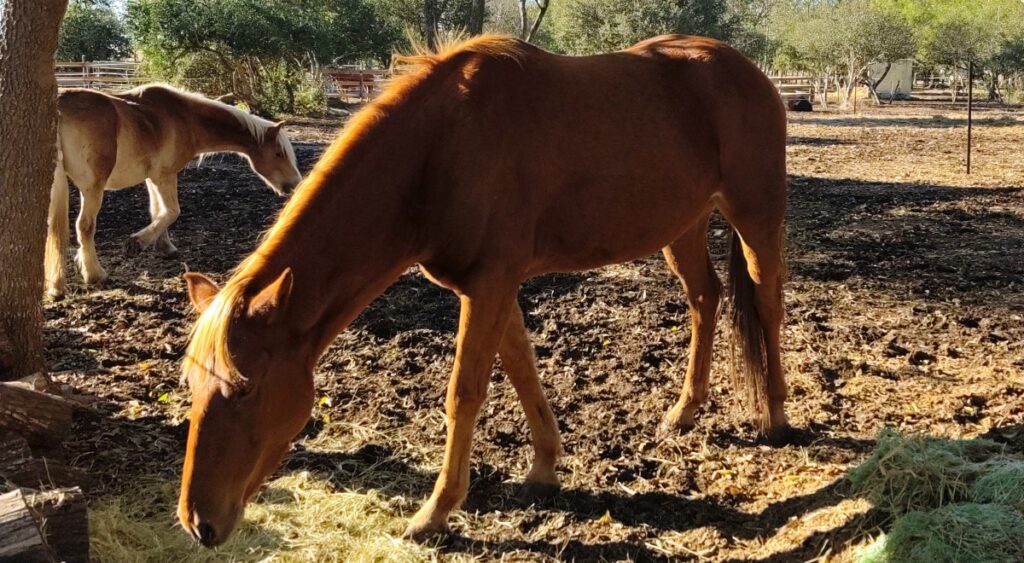 Happened by Chance Horses (HBCH) is a rescue and rehabilitation facility, therefore the horses we rehome are not your typical horses. Several of the horses we rehome are NOT for beginner riders or handlers.
HBCH receives horses who have been impounded by county agencies for cases of abuse or neglect or roaming estray, we receive horses that have proven "too much" for their current owners, meaning hard to handle, bossy, push through them, etc. We also bail horses from auction houses and occasionally from kill pens. Many times, horses arrive at HBCH with a variety of experiences (many could be negative) and may not have received proper handling in the past – if they have been handled at all or they have been through troubling spots in their life.
HBCH takes great care to gain each horse's trust, build its confidence, and provide remedial training to help the horse learn to trust their handlers. Once a horse has completed rehabilitation the horse is made available for adoption through a training program. You must be an experienced trainer to adopt via a training program. Many horses available for adoption are in the beginning to middle stages of their training program and are best suited for experienced handlers that can continue to advance the horse's training in it's forever home. Some horses are below the desired "riding" age and must be trained under saddle when they are age appropriate.
Information and pictures of available horses can be found here: Current Horses and Companion Horses.
---
Ready to adopt a horse? Here are a few things you need to know:
Adoption Rules
By adopting a horse from this Rescue, you agree to provide the animal with a caring, loving home, for the remainder of its life or return the horse to the Rescue.
Adopters cannot breed, race or resell any equine adopted from Happened by Chance Horses.
Happened by Chance Horses retains legal ownership of every equine that comes to the rescue, for the rest of its life. This "Protective Ownership" stipulation allows us to legally reclaim a horse if at any time it is found to be in an unsatisfactory situation. This "tough love" rule may seem extreme, but it is intended to ensure the best possible adoption outcome for both horses and adopters.
Adoption Process
1. Fill out adoption questionnaire and send to [email protected] (Be sure references know we are going to call.)
2. Once contacted send pictures of barn and fencing.
3. Once approved a visit can be scheduled.
4. Once you find your life long partner, pay the adoption fee.
Note: Average riding horse adoption fees are $600-800. Adoption fee is based on the horses capabilities and the investment made in them. A companion horse adoption is at no charge, but a contract must be signed. Project horses (young need training) fee is $500. Miniature horses are $250.00. All of our adoptions require a fully executed and accepted contract.
Each horse has: coggins, vaccines with boosters, current on farrier trim, current on de-worming protocol, riding evaluation, and dental if needed at the time the horse was checked.
---
If you have additional questions, please call Linda at (210) 307-7935.