Having a special-needs child has taught me to never give up. Just because there are different needs doesn't mean they are impossible needs. – Linda Nemec, Founder
How it started
Chance is the reason I do this thing called RESCUE. Chance is my son. God blessed me with him 22 years ago and He sent him here to earth with special needs. At the time, I was scared, but now I know how blessed I am. I watched Chance connect with a horse that was once boarded on my property. For a while, it was the only horse there.
Through watching Chance's interaction with the horse, the horses responses to him, I decided to get Chance his own horse. I wondered if by helping other horses, if I could also give Chance a sense of something bigger than the world can offer him.
Everything is so limited for those with special needs. Chance fell in love with Katie who was one of our first rescues. She came in with Grande as a package deal. Sadly both have passed, but they are the foundation of Happened By Chance Horses.
Since Katie's passing, Chance isn't as involved as he once was, but he is still my inspiration for continuing to rescue, rehabilitate and rehome these beautiful creatures that God called the horse.
– Linda Nemec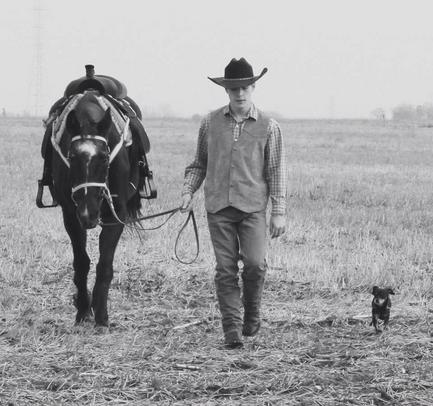 ---
Our mission
Since 2014, Linda Nemec and her volunteer team have rescued more than 125 horses, all kinds, all ages and all degrees of health and injuries, with 58 successfully rehabilitated and adopted to date. They've come from auctions, owner relinquishments or county agencies. Some are seizures or strays. Each rescue typically spends at least a year at the rescue, where health, attitude and training levels are assessed and addressed, and the starvation cases started on a careful weight-gain regimen. Therapeutic treatment is given as needed, and likely candidates are retrained from the ground up.

"We start all over with them and give them the time they need to learn," Nemec said. Some will be trained as trail horses or become companion or therapy animals. Still others will go on to retirement homes or become permanent residents if deemed unsuitable for adoption.
Nemec and her volunteers keep in touch with adoptive owners to ensure each horse's continued safety. They also strive to educate people about the responsibilities of horse ownership.

"Many people don't know the lifespan of a horse and what it takes to care for them for that amount of time. We offer to have people come out and learn, to see what happens when horses are let down by humans. We teach them about nutrition for the horse, keeping a clean home for a horse, what it takes to doctor a wound. We explain the dedication it takes to give a horse a chance at a wonderful life, and we explain how the horses give back all that—and so much more." – Linda Nemec
---
Happened by Chance Horses is a 501(c)(3) non-profit organization. All donations are tax deductible.
---
Memberships