These horses have been taken into our care and are currently being evaluated to determine their status for adoption. Once we have consulted our vet and trainer, we will move them to Current Horses, Companion Horses, or Under Medical Care.
---
BLUEBONNET aka BB
Gender – Mare
Breed – Quarter Horse
Color – Blue Roan
DOB – 2018
Category – TBD
Meet Bluebonnet. Known as BB here at HBCH. The first year or so of her life wasn't so good to her.
She was bought at an auction by a kill buyer. He attempted to take her across the border to be sold for slaughter and for reasons unknown, they rejected her…. so he loaded her up and dumped her at the Lockhart Livestock Auction as she clearly was no use or value to him.
We happened to be trying to save another horse that day in December ( y'all came to know her as mistletoe) but Tag # 624 caught my eye. She was so little and so scared. We bid on her also that day and saved her to. It was the last auction before Christmas and she deserved a home for Christmas. So on December 19, 2019 we brought her home to the rescue.
She was frightened beyond measure. It has taken lots of patience and some time and then some more time but we have softened this once terrified baby. She's growing and thriving. She will be heading into our training program soon. Right now she is halter broke, has learned to stand for the farrier and she has learned to smile too.
BB is available as a project horse to a training home only. She is still much to young to be broke to ride. She needs another year or so before riding should happen.
In that year you can make her your pocket pony. Train her up the way you would like. She's a clean slate. Her fears and scars are fading.
---
AJ
Gender – Mare
Breed – Quarter Horse Cross
Color – Sorrel
DOB – 2017
Category – TBD
Gorgeous AJ has spunk and sass but loves people. She is very easy to halter and will walk with you anywhere. Even though she is a young horse she does not get pushed around by the older mares in her paddock.
She does have a degenerative joint disease so slow straight line work is where her training is at. Dr Grose injected the joint with the issue. AJ has completed her round of Adequan injections as well. Next scheduled round of adequan would start 12/26/20, next joint injection in 1 year (6/26/21). It seems this issue does not slow her down in the least.
It is our hope that the injections will keep the disease at bay and we feel that slow and steady work would suit AJ best. Our goal here at HBCH is to make her into a lead line horse and see how she does with a light rider. There is a real possibility that the disease would render her a companion horse only over time. She is not painful or limpy at this time and just loves to run and stretch her legs. At this time we are offering AJ as a companion horse only. We will continue to work with her and update her status.
---
MOLLIE
Gender – Mare
Breed – Appaloosa
Color – Black and White
DOB – 2010
Category – TBD
Mollie is the most recent addition to the HBCH family. She has been blind about a year now and has settled in nicely. We are told she has been ridden but we have not confirmed that ourselves. So far she is ok with people and has learned the boundaries of her stall rather quickly. We will keep you updated on her progress.
---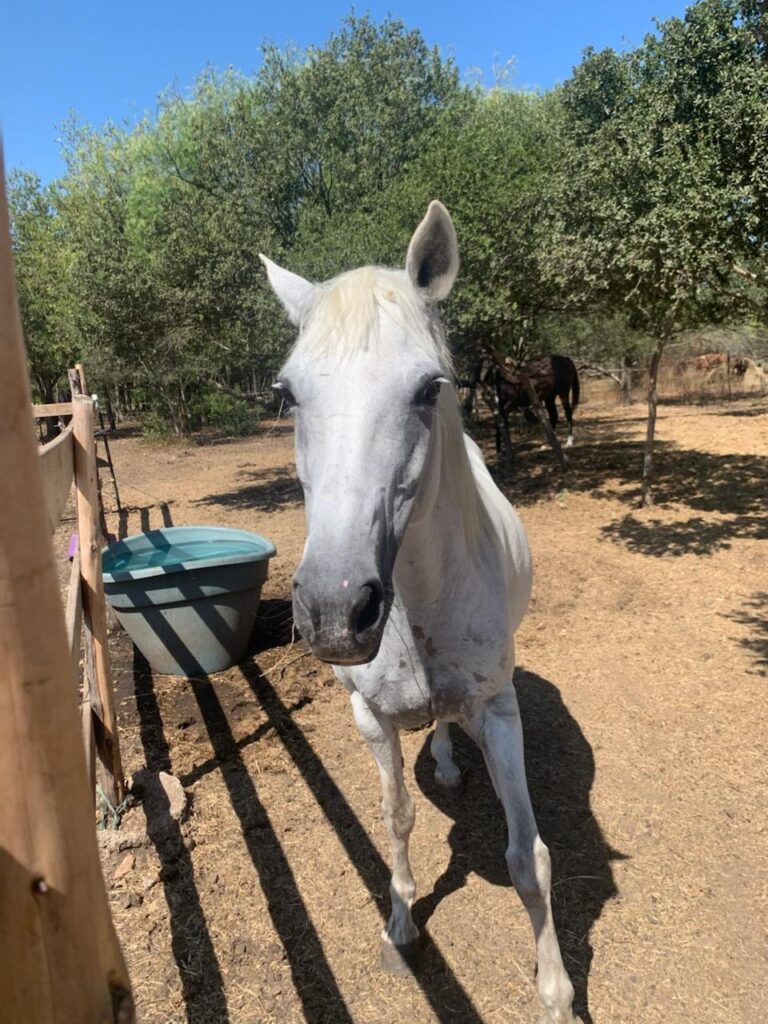 REVATA
Gender – Mare
Breed – Quarter Horse
Color – White
DOB – 2006
Category – TBD
We rescued Revata from Lockhart auction. We were told that she was broke to ride and was used on a ranch checking fence lines and gates.